Mia is a free-spirit and world traveler, well-known for several years around her pied-a-terre, Antigua Guatemala. During a care-free bicycle ride in Galway Ireland, she was struck by a car and suffered steadily degenerating back and neck injuries. The driver was at fault and an insurance settlement is in the process. Determined as ever, Mia continued with her round-the-world travel plans to Malaysia, South Africa, and beyond.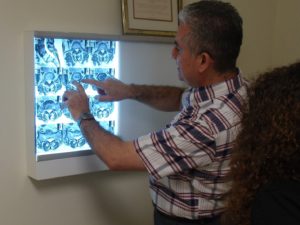 Fast-forward to this month — Mia returned to Guatemala to arrange for her medical care under the careful management of Guatemala Medical Travel, because she knows that the professional attention and personal care she receives here are of the highest quality. Another bonus is that the insurance funding will cover the medical expenses, with some much-needed cash leftover.
The orthopedic surgeon has diagnosed two fractures, requiring both lumbar and cervical procedures. The GMT administrative staff is busy preparing and submitting all the medical, legal and financial documentation from this end, in preparation of receiving a satisfactory settlement.
We hope that Mia will soon have the two successful surgeries behind her, so she can start working on the therapy that will restore her normal level of activity. But please, the doctor's orders are: "No boogie-boarding, jungle trekking, or mountain biking", at least not for now.